DIALOGUES





The icon arrow that appears under the phone indicates the number of elements
(contact or picture) to show to the character(s) present in the scene.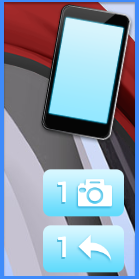 It's up to you to figure out what to show…
So think carefully! You can show as many pictures and contacts as you like (not during a confrontation), until Lyla is satisfied.

You can also unlock new dialogues and collect new clues!

To present a picture or a contact to a character present in a scene:
open Lyla's phone, click on "Contacts" or "Photos"
and present the chosen picture or contact by clicking on the green arrow.